Connecting the Kenai Peninsula
Launched in October of 2022, our scheduled flights connecting Anchorage to Kenai & Homer are providing an essential link to the peninsula, giving residents, workers, and tourists alike the safe and convenient option of skipping the drive and flying in comfort and style. With passenger experience at the forefront of our decision making; we make safety, comfort, and convenience our priority.
Utilizing our brand new flagship commuter aircraft, the Tecnam Traveller P2012, we plan to make Kenai Aviation the go-to airline on the Kenai Peninsula. With plans to add to our fleet and expand our scheduled service area, we are striving to become a staple in the Alaskan aviation community and beyond.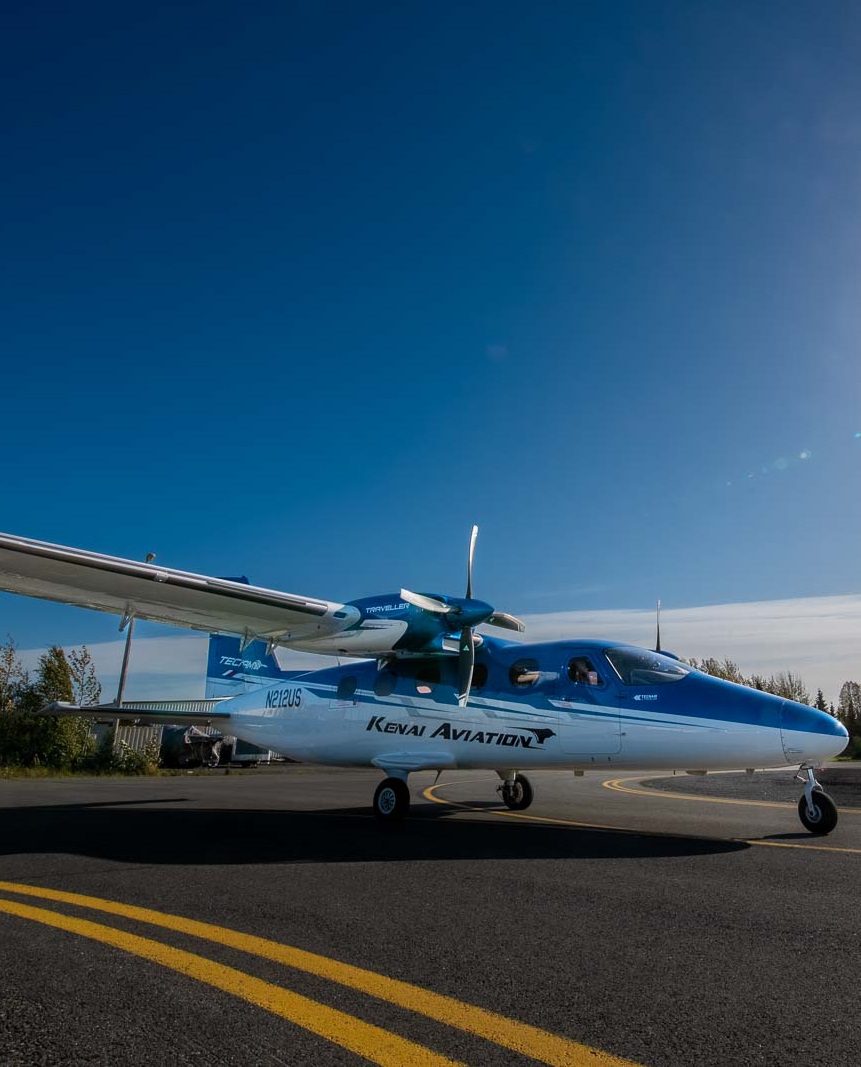 Kenai Municipal Airport
Homer Airport
Anchorage - Ted Stevens International Airport
Kenai Municipal Airport
305 N Willow St, Kenai, AK 99611
Our service desk is located in the departures section of the airport, to the left of the Airport Administration Office.
All flights board out of Gate 2 in the general boarding area.
Passengers arriving in Kenai can expect to pick up their checked bags at the baggage carousel located to the right of the arrivals door as you enter.
Homer Airport
Anchorage - Ted Stevens International Airport
Scheduled Service Frequently Asked Questions
Preferred check-in time is 30 minutes prior to departure. Flights close for check-in 10 minutes prior to departure.
What is your baggage policy?
Each passenger is allowed one carry-on and 50 total lbs. of checked luggage. This may be distributed throughout as many bags as you'd like. Any weight over the 50lb limit will be charged by the pound.
Customers are welcome to send their freight on any of our scheduled flights provided that there is available cargo space. Freight is charged by the lb. and requires same-day pickup at it's arrival destination. Late pick-ups are subject to late-fees.
Firearms, Dangerous Goods, and Special Frieght
Firearms: Any firearms or weapons you plan to check, must be unloaded and in proper cases PRIOR to arriving at the airport.
Dangerous Goods: There are a number of dangerous goods allowed and not allowed on our aircraft. For any questions regarding dangerous or prohibited goods, please call +1(888)505-3624.
Special Freight: Any awkwardly sized, large, or heavy items requiring special assistance must be disclosed of prior to check-in and are subject to additional fees. Baggage or freight that cannot fit in the nose or rear baggage compartments cannot fly on a regularly scheduled flight and must be booked onto a separate aircraft.
Weather & Mechanical Cancellations
Weather: In the event of a weather cancellation, all passengers will have the choice to either reschedule to the next available flight, save the ticket as credit for a later date, or receive a refund with a 10% fee.
Mechanical: In the event of a mechanical cancellation, passengers will have the option to either wait for the next available aircraft, save the ticket as credit for a later date, or receive a refund with no fee applied.
Children under 24 months do not need to purchase a ticket and will be required to ride on an adult companion's lap. Children 24 months and older will require their own ticket and seat.
Any children ages 5-12 years old travelling without an adult are considered "Unaccompanied Minors" (UM's). To book a reservation for a UM, a parent or guardian must do so either over the phone or in-person at one of our service desks.
Persons in charge of picking up the UM(s) at the destination airport MUST be checked in with the arrival station with their ID prior to the boarding of the UM's flight at the departure location.
For any questions regarding Unaccompanied Minors, please call +1(888)505-3624
Passengers requiring special assistance with boarding, unboarding, baggage assistance, wheelchairs, stollers, or anything else are asked to contact us prior to your day of travel.
To ensure our staff can help you to best of our ability, we ask that passengers needing special assistance should reserve their flights either over the phone or in-person at one of our service locations.
In keeping with DOT regulations, we make every effort to accommodate service animals. However, our planes do not have a separation between the flight deck and the cabin, and loose animals can be a threat to the safety of the flight. Our staff will work with you to determine the best restraint mechanism that will allow you to be near your service animal, while also maintaining the safety of the flight. If it is necessary to stow your animal in a kennel, you will not be charged the standard pet transport fee.
Any pets travelling with passengers must be kept in an appropriately sized kennel for the entire duration of the flight. Passengers are given the option to either check their animals in their crates during check-in, or passengers may lead their pet into the aircraft and ensure they are secured before taking their seats.
Bulk ticket books are available for sale at any of our in-person service locations, or over the phone at +1(888)505-3624
Gift Certificates and Flight Vouchers
While we do not currently sell gift certificate or flight vouchers, it is still possible to get your hands on them via community events, raffles, and special occasions. 
Passengers wanting to use their credit or vouchers must do so either in-person at one of our service locations, or over the phone at +1(888)50-KENAI.
Kenai Aviation is not responsible for any stolen gift certificates or voucher codes.